Old Uppsala church

Size: 2.29 m x 1.40 m

The original inscription:
Sigvid (rest)e sten denna, Englandsfararen, efter Vidjärv, fader --- sia --- ku--

The inscription in English:
Sigvid (raise)d this stone, the English Traveller, in memory of Vidjärv, father --- sia --- ku--

Kalle Runemaster
The head isn't easily interpreted. Is that a cheek under the eye that is inflated and blowing out air? Is there fire coming out of the mouth or is it a tongue? I choose to think that we are looking at a fire breathing dragon and that the circle under the eye is an inflated cheek.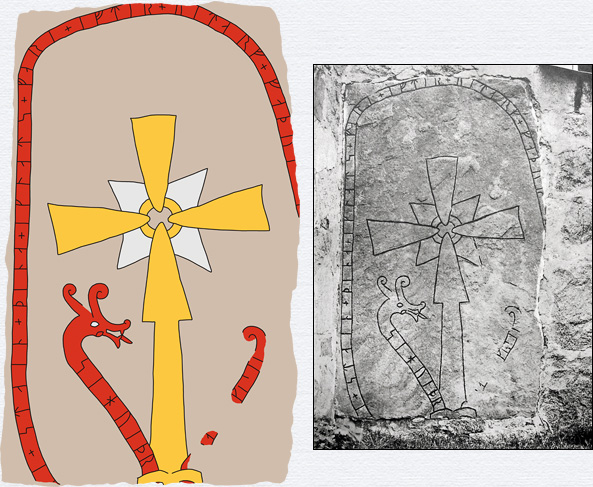 The cross in uneven and the blades are of different size. Some parts of the head don't seem to be carved at all. Was Erik being sloppy or did he get sloppy help?

The runes are evenly distributed and the branches are at a ninety degree angle from the main staffs. This is probably one of Erik's last stones.

The stone was used as an altar stone, starting during the 17th century at the latest. It was replaced
in 1829 and came to lie beside the altar. In 1856, it became a part of the outer wall of the church.
It still remains there.

In order to be suitable as an altar stone, the stone was cut at the edges. This was so badly done that
the ornamentation of the lower part of the stone as well as the ornamentation on the right side were lost. Let's assume that this happened during the 14th century. What happened to the bits of red sandstone that were cut off?

Below, you can see an article in Swedish on U 978, taken from the book Upplands Runskrifter.