Uppsala, University Park

Size: 2.03 m x 0.76 m

The stone was probably formed/truncated in order to fit the building material in the residence of the archbishop.

The original inscription:
Björn och --- ..(st)en e(f)ter --- ande --

The inscription in English:
Björn and --- ..(st)one (in memory of) --- soul --

Kalle Runmaster
Erik was not known for being very adventurous, but here, he made an exception.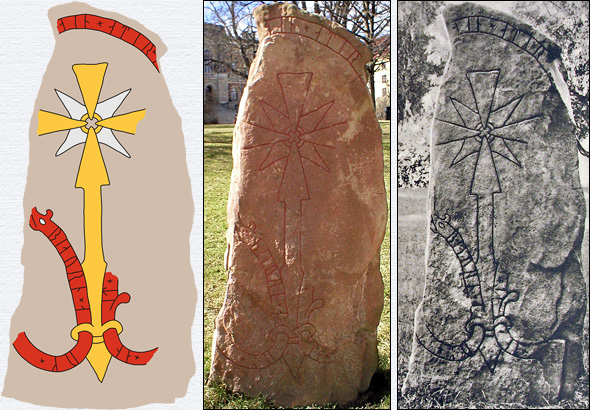 The head is depicted from the side, which can only be seen on this stone and on U 978 in Old Uppsala. Erik even gave the dragon a split tale.

The cross and all its details are well executed but on the whole, the ornamentation seems unbalanced.

The second word at the top is supposed to read "efter" but Erik forgot the F-rune.

Below, you can see an article in Swedish on U 943, taken from the book Upplands Runskrifter.