2014
Rune stone U 1173

Visiting Edinburgh in December 2013



Many thanks for
the translation to:
Michèle Maurer www.micmaug.com



On a mild winter day in December 2013, I travelled to Edinburgh in order to find and document Erik's runestone.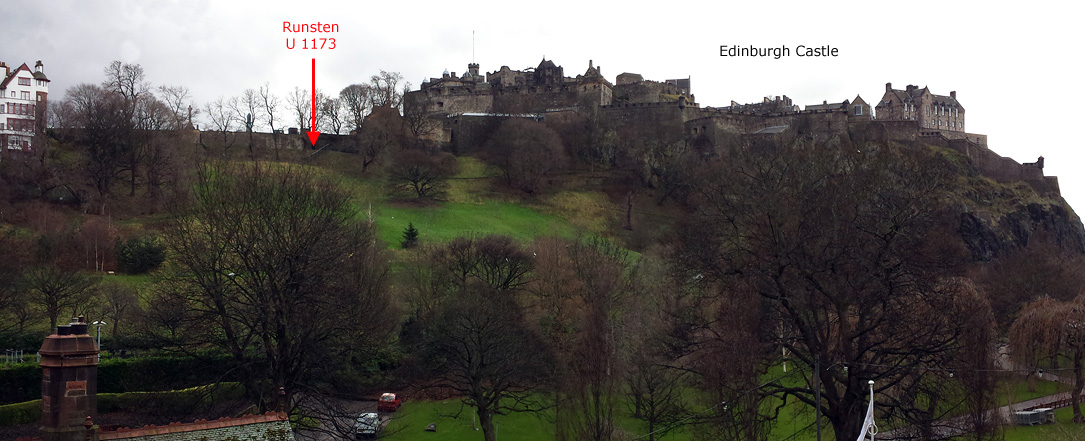 Once on site, I realized that the whole valley up to the castle had been cordoned due to subsidence. I was nevertheless given permission by the Park Manager to document the stone, which is located below the castle wall (red arrow).




The rune stone is situated on a ledge where it stands all alone. There's a new fence going around it, which – unfortunately – runs right in front of the stone.
The vast cordon of the area is also meant to prevent
adventurers from climbing the rockface up to the castle.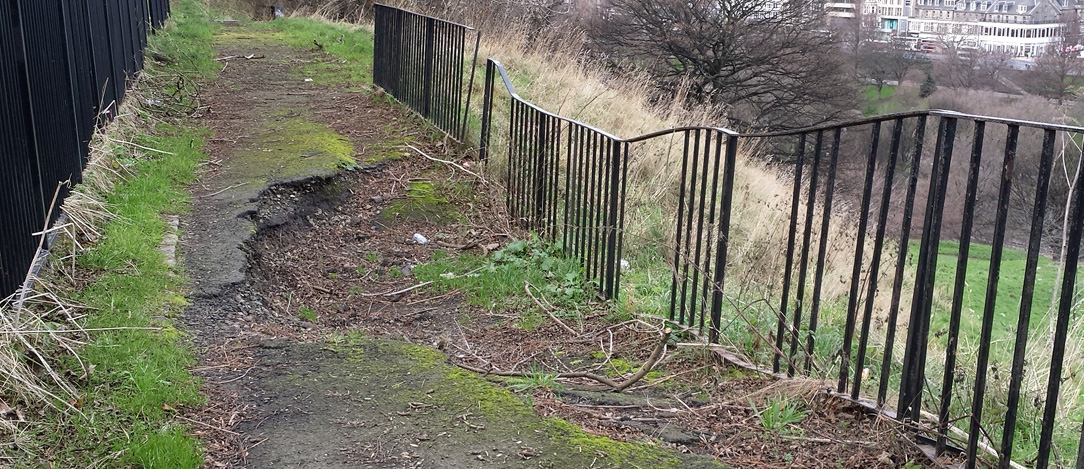 Subsided path along the slopes of the valley.




To the left, you can see the castle wall. On the far end of the ledge, facing the fence, stands the rune stone.
| | | |
| --- | --- | --- |
| | | |
| Left side | Front | Right side |






The S-rune is back-to-front and
the main branch is too long.
The H-rune has been damaged a long time ago, which is also shown in older drawings.
There's an additional cross, strangely positioned outside the frame, on the right upper edge. Why?
| | |
| --- | --- |
| | |
| The rune carver forgot the rune R and had to squeeze it in between the U and S | Edinburgh 2013: YouTube clip. |
| | |
| --- | --- |
| | |
| From behind the fence, one has a wonderful view. | There is a fence on the castle wall as well. |
| | |
| --- | --- |
| | |
| The avenue leading up to the castle. The rune stone is situated below the wall (red arrow). | The gate to the stairs that lead down to the stone is closed. |
---
The runestone of Edinburgh has been all but forgotten.
It's in need of attention, signs and accessibility.

Edinburgh is a beautiful city with old history and many attractions and sites. The runestone is a historical landmark, but neither the park staff nor the castle guides possess any information about the stone. Some of them don't even know that it's there.